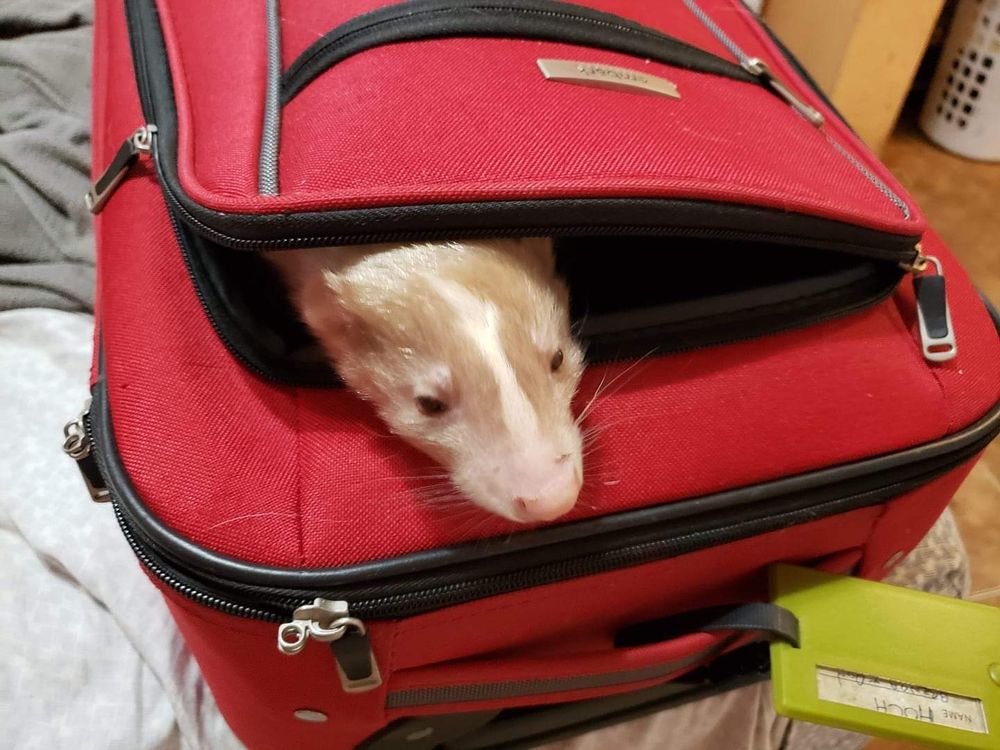 SKUNK SHOW INFORMATION AND REGISTRATION FORM
NOTE THE NEW LOCATION FOR THE SHOW
DEADLINE FOR RESERVATIONS AT SKUNK SHOW RATES:
 5:00 P.M. MONDAY, SEPTEMBER 27, 2021
RESERVATIONS AFTER THIS DATE WILL BE AT BEST RATE AVAILABLE
CANCELLATIONS MUST BE MADE 2 DAYS PRIOR TO ARRIVAL OR A ONE NIGHT FEE WILL BE CHARGED
GENERAL SHOW INFORMATION
The 32ND Annual Skunk Show will be held on Saturday, October 16, 2021 at the Holiday Inn Orlando SW/Celebration, 5711 W Irlo Bronson Memorial Highway (east of I-4 and across from Old Town), Kissimmee, FL. 
On Saturday, the show hall opens around 10:30 am and the judging starts at NOON.  It would be appreciated if you would pre-register your skunks so that your information can be entered into the computer ahead of time to save time on Saturday.  Skunk registration and payment can be made using the form and donation button found below.
To make a hotel reservation, call Group Reservations at the hotel directly at 321-401-1020, 7 days a week during normal business hours and ask for the "Group Code UK5".   This is the direct # for group sales.  If they are not available you will get their voice mail.  When you hear the message say SELECT OPTION "0" for IMMEDIATE ASSISTANCE, DO NOT CHOOSE THIS OPTION AS IT WILL SEND YOU TO CENTRAL RESERVATIONS.  INSTEAD WAIT FOR THE BEEP TO LEAVE A MESSAGE FOR GROUP SALES and they will call you back as soon as possible.  Check in time is 4:00 PM unless early check in is requested.  Checkout is 11:00 AM.  You can request an earlier check in time or a later check out time. 
The hotel has 2 towers so if you call to book, designate whether you want Tower 1 or Tower 2 (we reommend Tower 2:
Tower 1  room cost is $65/night plus $6/per night resort fee (normally $18) and 13.5% sales and room tax = $80.59/night.  These are deluxe rooms and which are newly renovated.  Tower 1 rooms have a larger refrigerator and a microwave but has a slightly smaller bathroom than Tower 2.    NOTE:  Bathroom door opening is 28 inches for baby gate planning purposes.
Tower 2 room cost is $55/night plus $6/night resort fee (normally $18) and 13.5% sales and room tax -= $69.24/night.  These are standard rooms which have not been renovated (but may be by the show).  The rooms are still very nice and even unrenovated several steps above the Ramada pool rooms.  Tower 2 has a larger tiled bathroom which, in our opinion, is better for baby-gating skunks.  It has a smaller refrigerator but if renovated will have the larger refrigerator.  It does not have a microwave but one can be requested and if available will be provided.      NOTE:  Bathroom door opening is 30 inches for baby gate planning purposes.
Tower 1 and 2 rooms have  either 2 queen beds or 1 kind bed.   Tower 2 rooms are closer to the show hall which is on the first floor and at the back of the hotel.  Tower 1 is on the other side of the hotel at the front.
The resort fee covers high-speed internet access in guest rooms and public areas, local calls, 800 # calls and credit card access, unlimited use of the fitness center, outdoor pool with fresh towels, parking, daily local newspaper available in hotel lobby and disney channel in your guest room.  This fee seems to be the new norm with the majority of the hotels but we were able to negotiate a reduction from $18/night to $6 a night.
NOTE (TENTATIVE DUE TO COVID )  Breakfast - The Holiday Inn has agreed to give  a Full American breakfast buffet at the rate of $9.00/per person - normal cost is $13.99/per person.  You must request the breakfast at the time you make your hotel reservation.
Room rates are good for Wednesday, October 13, 2021 through Monday October 18, 2021.  If you want to make it a mini-vacation, and stay till Monday, there is a group of us that stays and goes to one of the theme parks, usually Sea World., on Sunday.  Contact Brenda Hoch for more information.
VENDORS:  Vendors are welcome, to reserve a table contact Brenda Hoch 727-809-0975 or Lynnda Butler 954-290-6009.  NOTE:  Vendor space is limited due to smaller show hall so get your request in early.
FOR ADDITIONAL INFORMATION contact Brenda Hoch, floridaskunkrescue@verizon.net, 727-809-0975 or Lynnda Butler, lynndabutler@bellsouth.net, 954-290-6009.
REQUEST:  even if you find a lower rate for the hotel on another site, it would be appreciated if you made your reservation directly with the hotel.  By doing so, we continue to get a discounted rate and credit for the reservations which allows us to use the show hall at a reduced rate.  Your understanding is greatly appreciated.
SKUNK ENTRY FEE
$15.00 FOR THE FIRST SKUNK; $10.00 FOR EACH ADDITIONAL SKUNK (If showing 5 skunks or more, your maximum cost is $50.00 - provided all skunks are owned by the same owner)
JUDGING CATEGORIES
ALL SKUNKS are eligible to win the following categories:
A.  Grand National Champion is awarded to the skunk with the most points accumulated.  The categories  judged for Grand National Champion are as follows:  
1. Male or Female
2. Junior, Adult, Senior or Super Senior
3. Best Color
4. Best Male
5. Best Female
6. Best Tail
B.  Categories for fun are:
1. Best costume
2. Most Talented
C.  TOUGHEST SKUNK OF THE YEAR (Chosen by the Show Committee) (NOTE:  If you want to nominate a skunk for this award, email floridaskunkrescue@verizon.net and give us the name of the owner, name of the skunk, and why you think the skunk qualifies for this award).
NOTE:  All skunks are required to be neutered or spayed, except: if your skunk is this year's baby and too young to or too little to be safely altered, you may still show him/her but see Lynnda Butler or Brenda Hoch to  make special arrangements.  
SKUNK COLORS (Color assumes plus white stripe):
Albino                                                                                                                 Blonde
White with Dark Eyes                                                                                     Blonde Swirl
Confetti (3 or more colors, not shades of same)                                      Blonde Chip
Champagne                                                                                                     Smoke
Champagne Swirl                                                                                           Smoke Swirl
Champagne Chip                                                                                           Smoke Chip
Brown - Light                                                                                                   Brown - Dark
Brown - Light Swirl                                                                                         Brown - Dark Swirl
Brown - Light Chip                                                                                          Brown - Dark Chip
Mahogany (Reddish Brown)                                                                          Black
Mahogany Swirl                                                                                               Black Swirl
Mahogany Chip                                                                                                Black Chip
Lavender                                                                                                             Unique (any color or markings that do not fit in any other
Lavender Swirl                                                                                                    category above) 
Lavender Chip
NOTE:  If you are unsure what color category your skunk fits into, please choose what you feel is the closest.  You can double check the color when you check in at the show and it can always be modified at that time.
SHOW REGISTRATION PAYMENT
Check - if you wish to pay by check, please make the check payable to "Florida Skunk Rescue" and mail it to: Florida Skunk Rescue, 12225 Litewood Dr, Hudson FL  34669-3715.  When you fill out the registration form below, it will automatically be emailed to Florida Skunk Rescue.
Credit/Debit - if you wish to pay by credit or debit card, please use the "Donate" button below.  It will connect you with PayPal.  You do not need a Paypal account to make your payment.  Any questions Brenda Hoch at 727-809-0975.  When you fill out the registration form below, it will automatically be emailed to Florida Skunk Rescue.
 SKUNK SHOW REGISTRATION FORM:  (starts below "Donate" button).